Entrance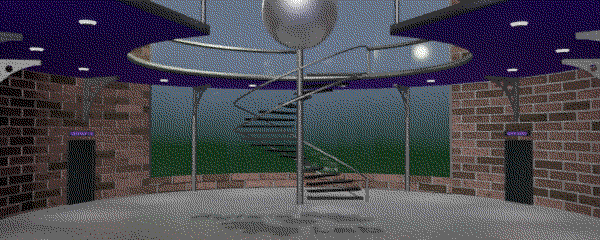 Main Lab
[Gadgetorium | Computer Lab | Game Room | Cafeteria | Foyer | Site Map]
The main hub of the lab, doors lead off in all directions. The sound of tools banging echos from beyond a door marked Gadgetorium. Keyboards clatter from the room labeled Computer Lab. Bleeps and bloops emerge from beyond a cozy couch in the Game Room. The smell of something delicious wafts out from the Cafeteria. Behind you, the Foyer has a pamphlet of tourist destinations in the surrounding area. News is posted on a bulletin board in the main hall:
2023-06-24
Long overdue in the Gadgetorium:


retroCart: cartridges for modern computers
2023-05-16
New in the Gadgetorium:


Shelf Robot
2023-05-06
Added Meatloaf in the Cafeteria, and updated the Stuffed Shells recipe.
Added a graphic to the Site Map.
2023-03-08
I've added a link to my game collection tracker to the Game Room. Scenes have been added for the Entrance and Main Lab, and the Foyer and Game Room have been tweaked for continuity.
2023-03-06
Scenes have been added for the Game Room and Foyer and the Gadgetorium scene has been updated. The in-universe text is now italicized.
2023-03-04
I've changed the layouts of Gadgetorium, Computer Lab, and Game Room slightly and added some flavor text to all the main pages. There are lots of additions to the Gadgetorium:


Arcade Trackball Controller


Modular Watch


Faux Nixie Temperature Display


AtariVox+ "Smart" Speaker
There's been a small update to the Konami Vampire Kit. The page for T60 "Crick" has also been updated with some recent upgrades.
2022-12-14
The Konami Vampire Killing Kit has been updated with the wooden box, built for Halloween 2022. I have build photos that I may add later.


2022-07-13
I built a ridiculously overpowered gaming machine, which you can now see in the Computer Lab:



Ryzen 7 5800X + RTX 3070Ti "GPC"

2022-03-18
Updated the Broccoli Salad recipe in the Cafeteria to the new format and added a photo.
2022-03-14
The Pita Pizza recipe was refined slightly and updated to the new format. There were also some refinements to the Virtual Cable TV Network logos, and to the main page banners, last week.
2022-02-20
I've been working on my TV project for a long time, but I've finally added it to the Gadgetorium:


Virtual Cable TV Network

I also added some work-in-progress 3D renders to the Gadgetorium, the Computer Lab, and the Cafeteria.
Addendum: added some commentary to the links in the foyer.

© 2023 Kyle Delaney | Site Map | View this site on a 90s/2000s computer using Retro Proxy!