Computer Lab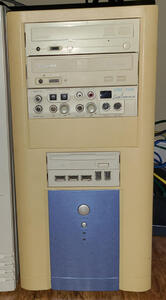 Intel Slot 1 PIII 1000MHz "Trinity"
Named for Trinity from The Matrix (an appropriate reference for 99/2000), and also its motherboard model.
My Dad worked for a lady that was cleaning out her late husband's extensive collection of old gadgets and parts. I recieved this PC from my family around 2014. It had Windows 2000 installed, and some quack medical software, along with lots of porn hidden in the system files. I erased all that, and after trying a few different versions of Windows, I settled on Windows 98. I made it my machine for high-end 90's and early 2000s Windows 98 gaming.
It originally had 1536MB of RAM on 3x 512MB modules, I downgraded that to 512MB when I installed Windows 98. The original floppy drive was dead.
| | |
| --- | --- |
| Release | ~2000 |
| OS | Windows 98SE |
| CPU | Intel Slot 1 PIII (supports PGA370 also) 1.0Ghz |
| Motherboard | Tyan Trinity 400 S1854 |
| RAM | 512MB PC100 (2x 256MB) |
| GPU | VisionTek (ATI) Radeon 9250 AGP |
| Audio | Creative SB Live! Platinum 5.1 |
| Network | Realtek RTL8139/810x Fast Ethernet |
| Internal Storage | UltraATA/66 onboard controller, 30GB? HDD |
| Removable Storage | DVD-RW, 52x CD-RW |
| Expansion | AGP, PCI (maybe also ISA?) |

© 2023 Kyle Delaney | Site Map