Computer Lab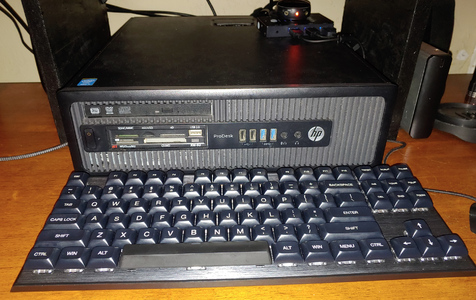 HP ProDesk 600 G1 SFF "Servo"
The desktop wallpaper is from here.
Named for Tom Servo from Mystery Science Theater 3000. I saw a Phil's Computer Lab episode about upgrading SFF PCs of this vintage and was inspired. I found this one on craigslist in Spring 2019, and upgraded the GPU, RAM, and storage. It's better spec'ed now than the gaming desktop I built in 2008. I have it set up with three Dell Ultrasharp U2414H monitors in portrait mode. The keyboard is a Cooler Master CK530 with Film Never Fades keycaps by Tex. The spacebar was sticky (I'm using the stock one here instead) and the A and S labels are already fading!
Release
2013
OS
Linux Mint 19.1
CPU
Intel Core i5-4670 (FCLGA1150) 3.4GHz
Chipset
Intel Q85 Express
RAM
4x dual-channel DIMM240 DDR3-1600 - 16GB
GPU
Gigabyte GTX 1050 OC Low-Profile, 2GB GDDR5, 1366MHz-1506MHz
2x HDMI, 1x DP, 1x DVI (up to 4 monitors)
PSU
240 W active PFC
Audio
HD Audio w/ internal speaker
Network
Intel I217LM Gigabit Network Connection
Internal Storage
Samsung EVO 860 1TB
Removable Storage
DVD-RW, Card Reader
Expansion
1 PCI-E x16, 3 PCI-E x1, USB 2.0 header

© 2023 Kyle Delaney | Site Map