Computer Lab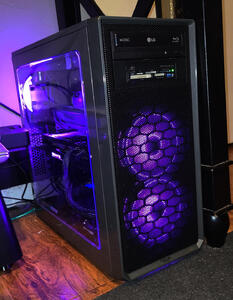 Ryzen 7 5800X + RTX 3070Ti "GPC"
Created: 2022-07-13
Named for the large purple robot "GPC" from Mystery Science Theater 3000. Paired with a 3440x1440 Ultrawide monitor. It can run Doom Eternal (using Proton of course!) at full resolution 160FPS Ultra Nightmare, or Nightmare with Raytracing. It puts out so much heat, it feels like I'm really there! ;-)
Front drive bays are going out of style, but I needed an optical drive and card reader for my Virtual Cable TV Network and to make discs for my retro computers.
The case fans are RGB, controlled through the motherboard. OpenRGB

works for controlling the LEDs in the fans, GPU, and my Razer mouse, on Linux.
| | |
| --- | --- |
| Built | July 2022 |
| OS | Kubuntu 22.04 |
| CPU | Ryzen 7 5800X: 8 cores, 3.8-4.7 GHz |
| Motherboard | Gigabyte X570 Aorus Elite Wifi |
| RAM | 2x Silicon Power DDR4 3200: 32GB |
| GPU | Gigabyte GeForce RTX 3070 Ti |
| PSU | EVGA 750GS: 750 Watt Modular |
| Network | OnBoard Gigabit Ethernet, WiFi, Bluetooth |
| Internal Storage | Silicon Power PCIe Gen 3 M.2 2280: 1 TB, WD Blue HDD: 4TB |
| Removable Storage | Blu-ray Writer, Card Reader |
| Case | Fractal Desgin Focus G Gunmetal |
| CPU Cooler | Be Quiet! Dark Rock Pro 4 |
| Additional Cooling | 3x Cooler Master MasterFan MF120 Halo |

© 2023 Kyle Delaney | Site Map