Gadgetorium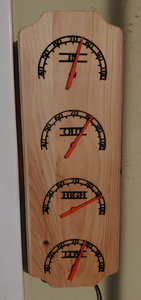 Analog Dial Weather Display
Created: 2017-04-27, Last Update: 2020-09-07, Scrapped: 2022-03-03
DO NOT BUILD! This project has been scrapped for the following reasons: Commonly available micro-servos have nowhere near a 180° sweep. In fact, using the standard Arduino library, they have nearer to 90°. Even sending out-of-spec microsecond duty cycles didn't give them much more range. My code always assumed a near-perfect 180°, resulting in temperatures appearing much closer to 70°F than they actually are. Additionally, they are wildly inconsistent, even between servos from the same supplier.
An Internet appliance that indicates weather conditions with analog-style dials. It shows the indoor temperature, the outdoor temperature, the forecast high, and the forecast low. The outdoor and forecast info comes from openweathermap.org

, the inside temperature comes from an i2c temperature and humdity sensor.
Electronics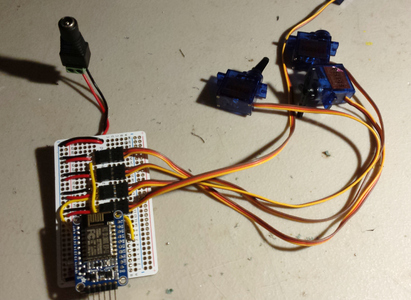 It is controlled by an ESP8266 (on an Adafruit Huzzah breakout board) which drives four servos. Later, I added a temperature sensor, and a PCB mount power jack for the 5V 2A power supply.
Construction
Everything is mounted to a decorative board from Home Depot, meant for house address signs. I 3D-printed mounts for the servos. The servos are screwed to the mounts, and the mounts are stapled to the board.
Decoration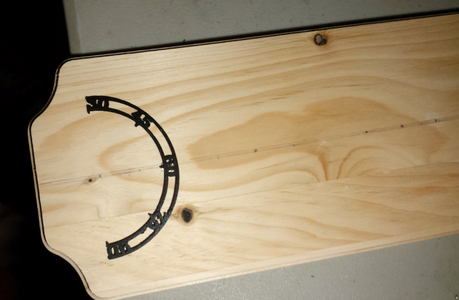 The labels and needles are 3d printed. I designed the labels as SVGs in Inkscape, then imported them as DXFs into OpenSCAD to generate the final STLs.

© 2023 Kyle Delaney | Site Map