Cafeteria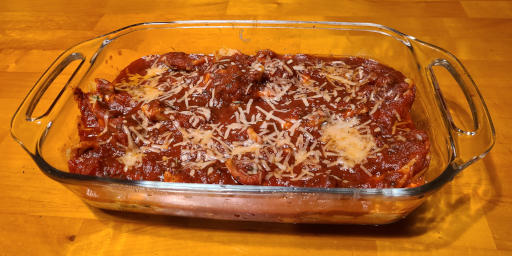 Stuffed Shells
One batch should fill a bit more than one 9x13 pan.
20-25 shells (out of about 45 shells in a 12oz package of jumbo shells)
24oz tub of cottage cheese
8oz. bag of shredded mozzarella cheese
1 egg
1 1/2 tsp. garlic salt
1 1/2 tsp. Italian seasoning
1/8 tsp. pepper
2 jars pasta sauce
5oz. spinach (optional)
Parmesan cheese (optional)
Heat oven to 375°F.
Cook pasta.
Mix cheeses, egg, seasoning, optional spinach, in large bowl.
Fill shells.
Line 9x13 pan with sauce.
Place shells in pan.
Cover with sauce.
Bake for 35 minutes.
Optionally sprinkle Parmesan on top.

© 2023 Kyle Delaney | Site Map