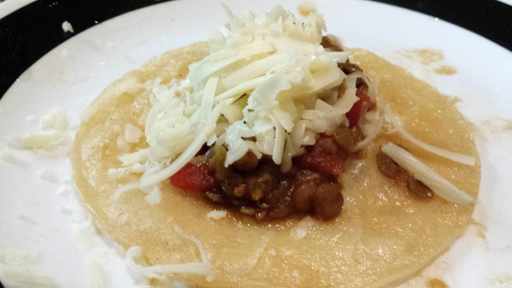 Lentil Tacos
1 t. olive oil
2/3 cup chopped onion
1 small clove garlic, minced
2/3 cup dried lentils, rinsed
1 T. taco seasoning, or to taste
1 2/3 cup chicken broth
2/3 cup salsa
12 taco shells
Heat oil in a skillet over medium heat; cook and stir onion and garlic until tender, about 5 minutes.
Mix lentils (after rinsing) and taco seasoning into onion mixture; cook and stir for about one minute.
Pour chicken broth into skillet and bring to a boil.
Reduce heat to medium low, cover the skillet and simmer until lentils are tender, about 30 minutes.
Uncover the skillet and cook until mixture is slightly thickened, 6 to 8 minutes.
Mash lentils slightly; stir in salsa.
Serve about 1/4 cup lentil mixture in each taco shell.
Garnish with cheese, tomato, lettuce, sour cream, etc., as desired.
Recipes